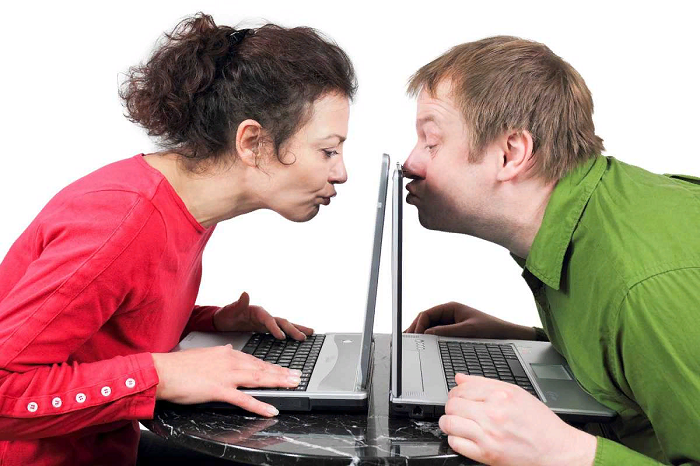 25 Oct

Virtual love

Internet – World Network: Fashion, News, Beauty, Health, Dating, Communication and much more.

What are women looking on the Internet? Each is looking for something his own. One companion of life, the other is just boring and tired of household chores, someone needs to increase their self-esteem, here you can love and part. Here it is, what a virtual mysterious space! After all, the Internet can be compared with a psychologist to whom we can tell and entrust everything you want, and no one will condemn us for this, we can be modest and dissolved, brighten up our loneliness, it is comparable to a random companion on a train who wants to speak more and more In life not to meet him.

Virtual love, whether it exists? In most cases, the goal of those who came to dating sites or chats is loneliness. Another world is built here, the world of new sensations and new colors. Therefore, coming here, we enjoy the minutes of happiness. After all, virtuality has its own indefinite charm. Two people live without knowing each other, and now a virtual acquaintance took place. Communication, as a magnet beckons more and more, flowers and emoticons fly on a worldwide network, and finally you cease to feel lonely, you are more for someone than you are in this world. So virtual love happened! For some, this is a certain game, and someone just believes in love. Of course, it is impossible to hug, snuggle up, you can't look into your eyes. But who knows what this game will turn out? After all, everything can end with real love! And there are many such happy virtual acquaintances!

****

You don't see me, I don't see you,

We met on the Internet.

Maybe we live nearby. Maybe let's pass by

And we will not notice each other in the crowd ..

My distant and close, alien and native,

You smile at me in the photo.

I don't know you, but I want to be with you,

The stranger is mysterious, who you are?

I am confused on the network, I know – there is no way out.

Waiting for a letter, panting with happiness.

Oh, worldwide network, tell me what the secret is,

Why the heart breaks into pieces?

I think minutes before meeting you

And sitting until late at work.

You go online, at this time you are mine!

Let not in life, at least in the photo.

I know, not to be together, even think to forget,

There is no love on the Internet.

Only joyfully for me, and so I want to live

These are happy in moments ..

****

When we fill out questionnaires on dating sites, each of us tells about ourselves what he considers necessary and winning to get a better impression of ourselves, and in return we hope to get love. Of course, the photograph can tell a little more about you, but this is just a photo. Virtual love begins, not from appearance, but from thoughts, from conversations, from the community of views and interests. This is also facilitated by an increased level of trust in the virtual space. And the higher the level of trust, the greater the force of rapprochement, the greater the chance of a feeling called love, even a virtual. And now entering the virtual space, we are looking for, we are looking for who looks like us: the coincidence of views, tastes and interests. And the information received about his companion is clearly exaggerated, so intimacy in the virtual world is faster and more relaxed.

For most, virtual romantic acquaintances have no future at all, you find each other easily and just as easily part.

The story of the 44-year-old Elena: "I gained a second wind. Only you need to clearly imagine what you are looking for. Say, I do not dream of a serious relationship with men. After two divorces, it is important for me to enjoy freedom in full. Without the Internet, I would probably feel like a marginal ".

Do not take virtual novels to heart! After all, it can also happen that your disappointment will be too strong at a real meeting. But there are also refutations that virtual love can go into real with a happy ending. So everything happens in the world! And in the virtual space you can meet true love and happiness. And if you have not yet met love on the Internet, do not despair, look around, maybe your work colleague is the one you have been looking for a long time!

Video about virtual love:

Your relationship has switched to a new level, tie your beloved bonds. White dress, beauty bride, impressive groom, cheerful guests and a sea of ​​flowers and smiles, which could be more beautiful and so wants all this to remain not only in memory but also in the photo and video. Professional wedding video made by an experienced video operator Creativestudio will capture your joy, love and smiles, for many years.